Course of Treatment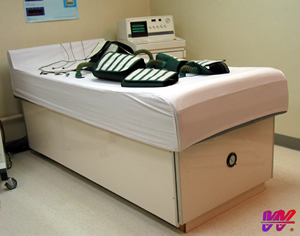 In the U.S. a prescription from a licensed physician is required for ECP treatment. The normal treatment regimen includes a total of 35 hours of therapy, administered for 1 or 2 hour per day, 5 to 6 days a week for 5 to 7 weeks.
Currently, stable angina and its related congestive heart failure or coronary heart disease
treatment are covered and reimbursed by Medicare, Medicaid, and most health insurance companies.
ECP treatment may be indicated for patients who have already had, or are not good candidates for, surgical intervention. It is often an ideal choice for stable angina patients with single or multiple vessel coronary artery disease. The treatment is also useful for patients who do not tolerate, or who prefer not to rely on, medication.
Model US-ECP treatment has not resulted in any significant side effects. In fact, such treatment is very safe.
ECP may be contraindicated for patients with certain conditions, including: recent surgical intervention, uncontrolled arrhythmia, pacemakers, severe pulmonary disease, severe hypertension, aneurysms, pregnancy, or the presence of a burn, open wound, or fracture on any limb subject to ECP treatment.